"We love Vertex. Everyone on the team is responsive, reliable, and genuinely dedicated to quality and service. With Vertex we see a true partner working with us to take our digital communications to the next level and create the best possible experience for us and our members."
Will S.  Communications Director of DC area Non-profit
Free Email Deliverability Audit 
We're offering a free, no-obligation email deliverability audit, customized for your business. Find out how our email marketing experts monitor delivery metrics, identify issues, engage with ISPs on your behalf, and provide recommendations for improved email deliverability.
During the audit we'll take a look at your: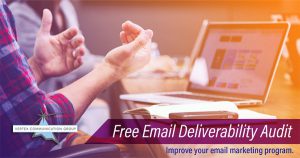 Email Service Provider (ESP)
Existing workflows
Subscribers & segments
Email copy & design
Key metrics
Deliverability & performance
You'll take away actionable insights from the call, and we'll deliver a written report for you to share with your team. And, you will be armed with the information you need to improve your email marketing program — whether you work with us or not!
Just fill out the short form and an expert from Vertex will contact you within 1 business day.
By requesting the audit, you'll be opted in to receive future communications from Vertex. You may unsubscribe at any time.